Your Former Prospective Customers are Lying to You.
We'll Help You get to the Real No.
Win Loss Analysis to Accelerate Revenue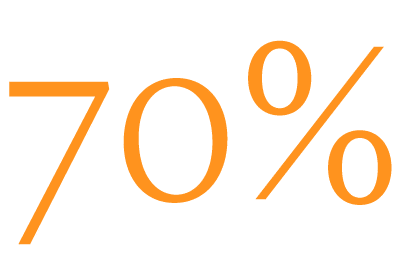 of the data in your CRM is wrong
You've got blind spots
Your company is likely losing deals and doesn't even know why.  Every company does. They are hurting revenue. 
Why didn't customers buy from you?
Why did they buy from you?
And just as important: why did they decide to do nothing?
Win-Loss Analysis is the single best way to win more of your sales opportunities.
What if you could just ask?
Thirdside conducts qualitative research interviews with stakeholders in your won, lost, and even churned accounts. As a neutral third party, we ask more probing questions, and get more candid answers than your people can get on their own.
Benefits of Win-Loss Analysis
When you know the real reasons, you can do more of what works, and fix what needs fixing.  Sometimes its price. Sometimes it's as simple as giving more tailored solution demonstrations.  Other times you may be lacking critical product features.

Sales Management
Improve and prioritize sales enablement, prove your case to product management about new feature requests, institutionalize best practices from your top performers. Uncover new opportunities for account expansion.

Sales Reps
Get direct feedback on what went well and what could be improved in each sales engagement. Feedback is a gift, and this gift is made of gold. It's like a 360-degree review for sales professionals, with both praise and constructive feedback.
Marketing
Use this direct feedback from the market to improve personas, messaging, competitive positioning, lead generation, content marketing, and more. All based on market-validated information.
Product
Learn about product features making a difference in competitive selling situations. Identify areas where you may need to invest, or coach sales to handle product-related objections more
Competitive Intelligence
Secondary research from online reviews, analysis of your competitors website and content is interesting. But win-loss research provides game changing intel from the trenches. Know what your competitors are doing against you in competitive sales situations through the eyes of your prospective customers.
Results that speak for themselves
"The reports are market intelligence gold. We distribute them to our entire executive team as soon as we receive them."
"The reports from Thirdside are super-detailed and actionable. We learn about self-inflicted sales wounds, competitor tactics, and even expansion opportunities in our wins. We've added M&A due diligence and customer churn interviews to the mix"
Names have been changed to protect the identities of the companies, but we'll happily introduce you to some reference accounts when the time comes.
Case Studies
The goal of a win-loss analysis isn't to figure out where sales went wrong. It's to determine how to increase win rates, build a more competitive product, create a more powerful marketing message and, ultimately, boost profitability.
Your organization probably has some hypotheses about why you win and why you lose. We'll test those for you and find out if they are the real reasons. But we'll also identify your blind spots: the reasons you are losing deals that you don't even know about yet.
Even the best, most sophisticated companies experience blindspots.  Here are some examples:
We were engaged in a win-loss pilot project for a nationally recognized business consulting firm who act as a trusted advisor for people navigating the complexities of selling multi-million dollar consulting engagements.
Even at this high level of sales and account management expertise, there can be missteps.
Several lost accounts reported their selection teams as being put off by the excessive size of our client's sales presentation teams.
Where our client wanted to convey depth of experience and consulting bench strength, the customers saw a propensity for bloat and cost overruns.
Blind spot:
"The number of people might have been more than eight. It was extremely overwhelming. There were only ten of us. Were they trying for a "buddy system?"
For this provider of low-code development platforms, customers were buying into the vision but experiencing a very different reality. Wowed by the sales team, and pre-sales engineers, customers expected the same level of attention and expertise after the contract was signed.
But we revealed in many instances, that the experience was very different, with several accounts describing the on-boarding and implementation teams as b-players. Customer satisfaction and recurring revenue was at risk.
Blind spot:
"The presales experience was exceptional, but we have been extremely frustrated since executing the contract. The software is buggy and unstable, support is non existent. Please help me get the implementation working and put me in touch with other successful customers."
For a leading artificial intelligence company from Silicon Valley learned they were spending too much time pitching what they solution did, and why it was important.
But they lost customers because they didn't explain how the solution would fit within existing technology investments, workflows, and departmental boundaries.
Blind spot:
"Although we loved the idea, we did not know how it would fit in our process. We understood the value proposition. We could see the future. But we didn't practically understand the details of how it would work. We had trouble wrapping our heads around it."
There is no one-size fits all approach for win-loss analysis. 
There is no one-size fits all approach for win-loss analysis.  The needs of a software company are different than a consulting firm. The needs of a company on the bleeding edge of artificial intelligence, are different than a manufacturing company or a healthcare solution provider. 
You need information. It could be information about your sales process, or your product features, or just straight up competitive intelligence.
Bottom line: You need to know why you win and why you lose so you can improve close rates